October 23, 2015
Posted by:

KBCF Media

Category:

Community Blog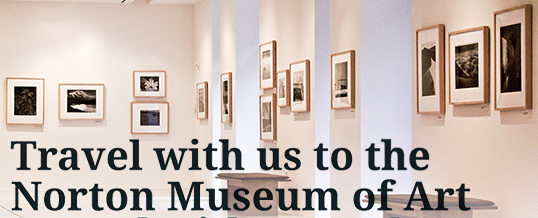 Have you ever wanted to see historic buildings and ancient cultures up close but never had the opportunity to travel to distant lands? Now is your chance to experience the true charm of one of the most vibrant of cultures in human history and explore Israel up close. The Key Biscayne Community Center is hosting a fantastic event that allows you to travel to the Norton Museum of Art to view "This Place: Israel Through Photography's Lens."
What You Can Expect From This Fantastic Outing
For this trip, you will travel up the coast of Florida to Palm Beach. This trip takes place Nov. 6, with the bus scheduled to leave at 9:30 am. It's only $17 per person to attend.
The Norton Museum of Art is a modern, beautiful building filled with incredible art of all types. This specific exhibit is an international photo exhibit about the country of Israel. It's an in-depth look at what life is like in this culturally and historically important region of the world that's often masked by turmoil. The exhibit explores the complexities of the country and the region both through place and metaphor. For this exhibit, 12 internationally acclaimed photographers, who are both non-Israeli and non-Arab, took to the streets of the country to provide a beautiful display that will capture your heart and challenge your mind.
A Bit of Lunch Afterward
After a rewarding experience at the museum itself, the trip will then take you to Serenity Tea House and Cafe. Located in West Palm Beach, this fantastic little cafe is the perfect retreat after a visit to the museum. You'll find it charming with a wide selection of items on its menu. The lunch menu offers options ranging from quiche, Waldorf salads, maple honey turkey sandwiches and much, much more. Sample some fresh scones and enjoy tea right along the beach.

Why Participate?
This community event is a fantastic way for you to participate in something culturally significant and yet relaxing and rewarding. At Key Biscayne Community Foundation, we aim to provide you with the highest level of community support and outreach. It's important to us to provide you with access to important events and valuable experiences. It's our mission to help you to make a positive difference in the community through our community outreach and volunteering opportunities.
How to Get Involved In This Experience
There's no doubt that "This Place: Israel through Photography's Lens" at Norton Museum of Art trip will be worth your time. It's easy to get involved:
Contact Key Biscayne Community Center at (305) 365-8900 to register
Register before the Oct. 30 deadline
The trip fee is just $17
This is an adult-only trip
You'll take a charter bus from the Community Center to the Norton Museum of Art, followed by lunch at Serenity Tea House and Cafe. You will then return to Key Biscayne's Community Center. Be a part of the fun by contacting our offices today.